Ikea Raskog Homework Station Organization
A friend told me that one school year, the first homework assignment given to one of her children was to create a "homework station."  The teacher sent home a list of requirements, and required the children to make a poster with pictures of the homework station they created and write a report about it!  While that may be a little over the top, the concept of a homework station is a good one.  "Since kids often have a hard time concentrating on their work at home, it's a very good idea to establish a place for them to work," educator Robert Hogland says.
As I looked more into this concept, I discovered something pretty cool:  a homework station doesn't require an entire room or even a desk!  I found a wide range of ways that creative do-it-yourselfers have incorporated this idea into their family homes.  In some cases, there are rooms and desks, but in others the homework station is mobile.  Really, there's no wrong way to make a homework station.  The important thing is that you include the supplies your child might need so that they can successfully sit down and work on their assignments.  Check out these 5 Ways to Make a Homework Station.
1.  Make It Mobile
Smashed Peas and Carrots needed a flexible homework station, since her kids have been known to do homework in the kitchen, dining room, or porch.  The Ikea Raskog cart was the perfect solution for their needs: it offers plenty of storage space and it can roll anywhere they need it to go.
2.  Make It Mini
There wasn't much space at The House of Smiths for a homework station, so they decided to keep it simple and easy to stash, if they needed the space for something else.  The homework tray they made is an idea that can be incorporated into any home!
3.  Make It Multifunctional
If you have a room in your house that you can designate just for homework, that's awesome.  But the challenge for many of us is that we need our rooms to do more than one thing.  Classy Clutter set aside part of the playroom for both homework and crafts.
4.  Make It Work
On the other hand, sometimes there's a room in your house that just isn't living up to it's potential, and you could make it work better for your needs.  That was the case with The Weekend Homemaker's formal dining room.  Transformed into an office, this former dining room is now a perfect place for adults and kids to work at home.
5.  Make It Over
No need to run out and buy something if you are trying to create a homework space.  This vintage library cart has had several uses already at the 4 Men 1 Lady house.  It's most recent transformation was being repurposed into a homework station.
Is a homework station something you've already put together at your house?  I'd love it if you would share your tips with me for how you keep your family organized during the busy school year.  And, if you need a few ideas yourself, check out last week's 5 Ways to Get Your House Ready for School.
Download Free Plans for a Double Sliding Barn Door!
Enter your email and the DIY Barn Door Plans will be sent to your inbox!
Success! Now check your email to confirm your subscription.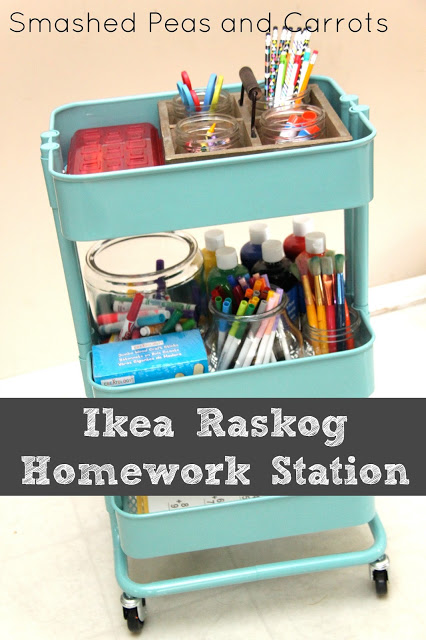 With school in full swing now and homework starting to make its way into our house, I thought I would try to be a bit more prepared for all the color this, draw that, cut this, glue that directions that most homework begs of us.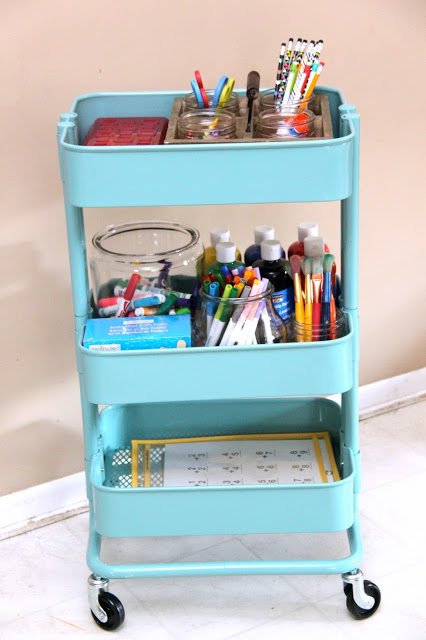 Ya'll remember my love of Ikea's Raskog kitchen cart from my makeover post here, well, that one is for me…and all my sewing and craft goodness, muahahaha. Can I tell you how much I love that cart? So Dang Much. It's so handy to have around that I actually went back and bought another one for the kids. It had the makings for a perfect Homework station…and pretend library cart too! (my kids love piling it full of books and wheeling it around the house, checking books out and slapping overdue fines on each other, ha!)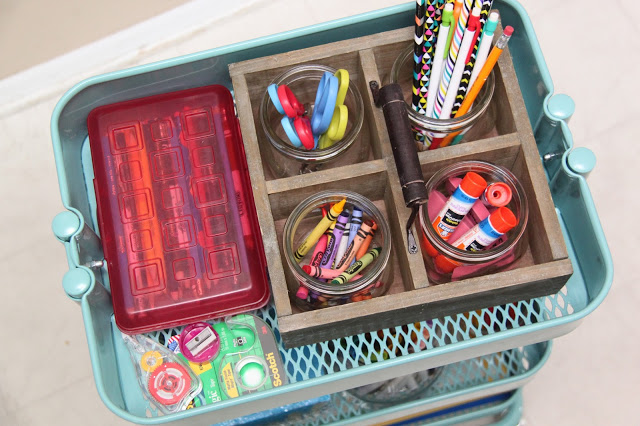 I thought I'd share what I put in ours in case you needed a bit of "Homework Station" inspiration. Up top I have a simple pencil box full of colored pencils, next to it scotch tape, a white-out pen thing-a-ma-bob, and a pencil sharpener.  I also have little jars with kid scissors, crayons, pencils, gluesticks and erasers…you can never have too many erasers, am I right?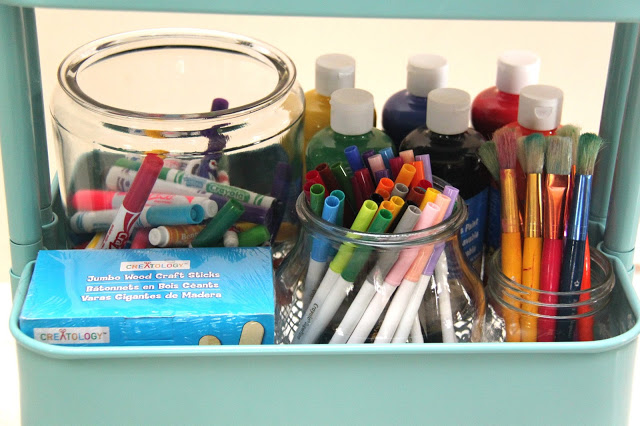 In the middle shelf I keep a big jar filled with fat markers, a small glass jar filled with fine tip markers, a mason jar of thick paint brushes, tempura paint, and a box of craft sticks.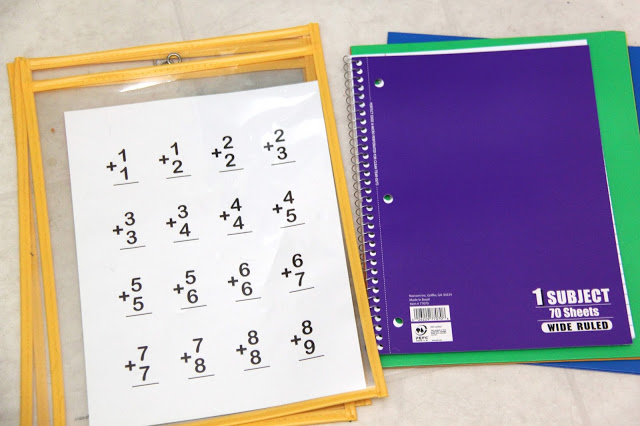 The bottom shelf is for extra notebooks, folders, and paper.  I keep a few of these fun plastic paper protectors I found in the Target Dollar Spot. You just slip a piece of paper into them and write on them with erasable markers…perfect for practicing spelling and writing and math!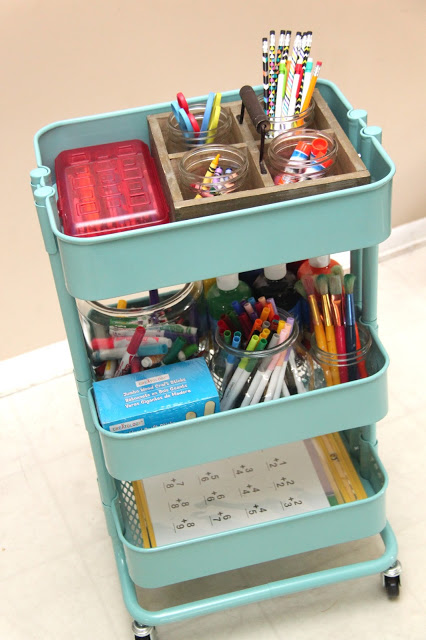 So there you have it, a simple Homework Station that we can roll into the kitchen, the dining room, or the porch! 
PS. I think right now a lot of stores are clearancing out their Back to School supply sections (at least mine are!) so you may want to head over and stock up for your homework station! I stock up every year!